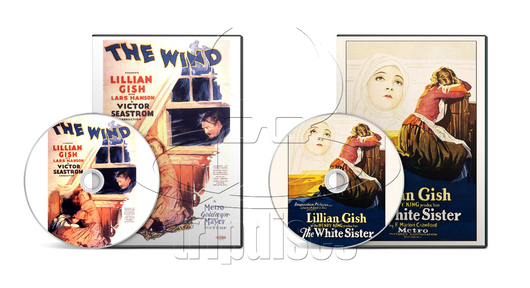 The White Sister (1923) + The Wind (1928) Drama, Romance, Thriller (DVD)
Regular price $19.00 Sale
The White Sister (1923)
Director: Henry King.
Leading Role: Lillian Gish, Ronald Colman, Gail Kane.
After her father, Prince Chiaromonte (Charles Lane), dies in a freak accident, Angela Chiaromonte (Lillian Gish) finds out that her jealous half-sister, the Marchesa di Mola (Gail Kane), has invalidated her claim to an inheritance. When news arrives that the man they both love, Capt. Giovanni Severini (Ronald Colman), has died in battle on the Middle Eastern front, a penniless Angela enters the convent and resigns herself to a life of piety -- until a mysterious message changes everything.
The Wind (1928)
Director: Victor Sjöström.
Leading Role: Lillian Gish, Lars Hanson, Montagu Love.
When Letty Mason (Lillian Gish), an emotionally fragile woman from Virginia, relocates to West Texas, she finds herself unsettled by the ever-present wind and sand. Arriving at her new home at the ranch of her cousin (Edward Earle), she receives a surprisingly cold welcome from his wife (Dorothy Cumming). Soon tensions in the family and unwanted attention from a trio of suitors, including neighbor Lige Hightower (Lars Hanson), leave Letty increasingly disturbed, resulting in tragedy.
Contained in: Standard DVD Cases.

Format: Either PAL or NTSC (depending on world location), Region 0 (Multi-Region/Worldwide).