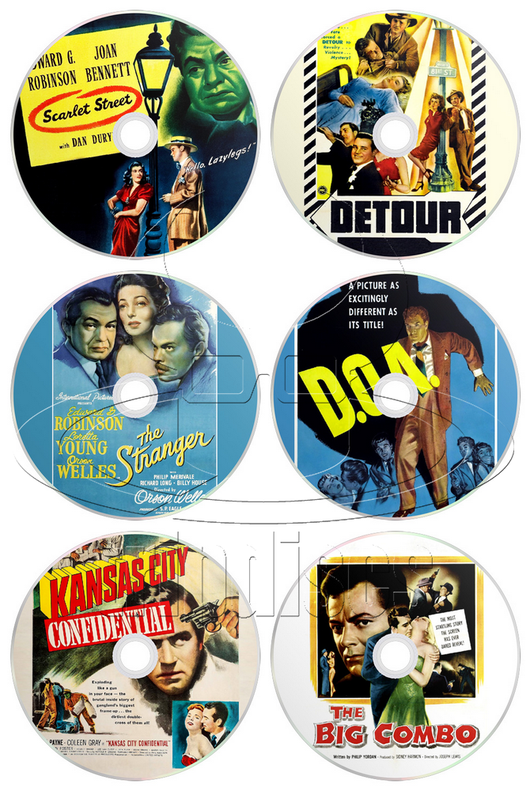 Ultimate Film-Noir Collection Volume 1 (1945-1955) Crime, Drama, Mystery, Film-Noir, Thriller (6 x DVD)
Regular price $17.00 Sale
Ultimate Film-Noir Collection Volume 1 Collection Contents:

Scarlet Street (1945)
Drama, Film-Noir, Thriller
Directed by: Fritz Lang.
Starring: Edward G. Robinson, Joan Bennett, Dan Duryea.

Chris, an amateur artist, falls for a fraudulent, Kitty, who woos him for his wealth. Kitty and her lover John sell Chris's works in Kitty's name to make money.

Detour (1945)
Crime, Drama, Film-Noir
Directed by: Edgar G. Ulmer.
Starring: Tom Neal, Ann Savage, Claudia Drake.    

In New York, piano player Al Roberts (Tom Neal) laments when his singer girlfriend, Sue Harvey (Claudia Drake), leaves for Hollywood, Calif. When Al gets some money, he decides to hitchhike to California to join Sue. In Arizona, Al accepts a ride with Charles Haskell (Edmund MacDonald), but during a storm in a freak accident, Haskell is killed. Frightened, Al assumes Haskell's identity and car, but soon comes upon the mysterious Vera (Ann Savage), who seems to know all about his true identity.

The Stranger (1946)
Crime, Drama, Film-Noir
Directed by: Orson Welles.
Starring: Orson Welles, Edward G. Robinson, Loretta Young.

Wilson, a member of the War Crimes Commission, travels to Harper, Connecticut, in search of Franz Kindler, the mastermind behind the Holocaust, who has taken a new identity.

D.O.A. (1950)
Drama, Film-Noir, Mystery
Directed by: Rudolph Maté.
Starring: Edmond O'Brien, Pamela Britton, Luther Adler.

Frank Bigelow (Edmond O'Brien) is about to die, and he knows it. The accountant has been poisoned and has only 24 hours before the lethal concoction kills him. Determined to find out who his murderer is, Frank, with the help of his assistant and girlfriend, Paula (Pamela Britton), begins to trace back over his last steps. As he frantically tries to unravel the mystery behind his own impending demise, his sleuthing leads him to a group of crooked businessmen and another murder.

Kansas City Confidential (1952)
Crime, Drama, Film-Noir
Directed by: Phil Karlson.
Starring: John Payne, Coleen Gray, Preston Foster.

A mysterious fellow (Preston Foster) contacts a trio of criminals (Jack Elam, Neville Brand, Lee Van Cleef) to help with a bank heist. The four wear masks and remain strangers to each other, planning to reunite in Mexico to divvy up the loot. Joe Rolfe (John Payne), the man they framed to take the heat, gets his charges dropped, and the police offer him a reward if he can help recover the cash. He agrees, and when one of the thieves meets his end, Rolfe assumes his identity to catch the crooks.

The Big Combo (1955)
Crime, Drama, Film-Noir
Directed by: Joseph H. Lewis.
Starring: Richard Conte, Jean Wallace, Cornel Wilde.

Film noir about a police lieutenant who comes under pressure from a gang headed by a vicious thug. He is helped by the gangster's wife, jealous at her husband's affair with another woman, who supplies him with information to help him close the net on his foe.

Contained in: Transparent Plastic Wallets.

Format: Either PAL or NTSC (depending on world location), Region 0 (Multi-Region/Worldwide).