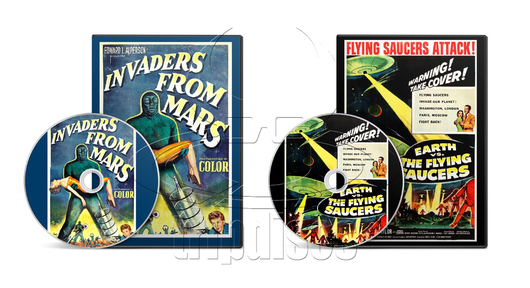 Invaders from Mars (1953) Earth vs the Flying Saucers (1956) Action, Horror, Sci-Fi (2 x DVD)
Regular price $19.00 Sale
Invaders from Mars (1953) Horror, Sci-Fi
Directed by: William Cameron Menzies.
Starring: Helena Carter, Arthur Franz, Jimmy Hunt.

Curious adolescent boy David MacLean (Jimmy Hunt) confronts aliens who have set up base in his backyard. The extraterrestrials intend to use mind control on the local townsfolk. Determined to stop the invaders, who have already co-opted his father (Leif Erickson), he attempts to warn others. But when local law officers also succumb, David teams up with astronomer Stuart Kelston (Arthur Franz) and Dr. Pat Blake (Helena Carter), and the trio must fight together to repel the insidious intruders.

Earth vs. the Flying Saucers (1956) Action, Sci-Fi
Directed by: Fred F. Sears.
Starring: Hugh Marlowe, Joan Taylor, Donald Curtis.

UFOs from a doomed star system invade Earth with plans of world conquest. Surrender is not an option so the human race must fight to the bitter end. Special effects by Ray Harryhausen.
Contained in: Standard DVD Cases.

Format: Either PAL or NTSC (depending on world location), Region 0 (Multi-Region/Worldwide).