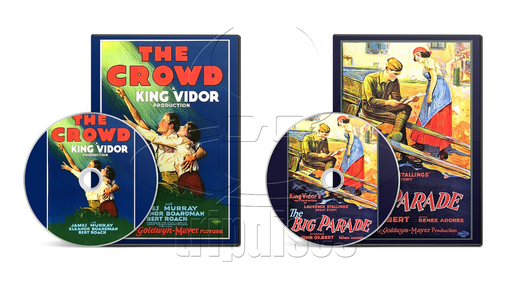 The Crowd (1928) The Big Parade (1925) Drama, Romance, War (2 x DVD)
Regular price $20.00 Sale
Directed by: King Vidor, George W. Hill.

Starring: Eleanor Boardman, John Gilbert, Renée Adorée.

The Crowd (1928)

Young John Sims (James Murray) weathers the death of his father and travels to New York City in search of success. Instead, he becomes a low-level worker in an enormous office of a nameless corporation. After he meets a beautiful young woman (Eleanor Boardman), things seem to be looking up, but before long the newlyweds are sullen and bickering, and the arrival of their children leaves John feeling trapped in a dead-end existence. Then tragedy strikes, causing him to reassess his life.

The Big Parade (1925)

Wealthy young idler Jim Apperson (John Gilbert) enlists during the early days of World War I, to the worry of his mother (Claire McDowell) and the pride of his father (Hobart Bosworth). Sent to the front lines in the French countryside, Jim bonds with his working-class bunkmates Slim (Karl Dane) and Bull (Tom O'Brien) and falls in love with young French farm girl Melisande (Renée Adorée), despite having a girlfriend (Claire Adams) back home. But the romance of war is soon shattered for good.

Contained in: Standard DVD Cases.

Format: Either PAL or NTSC (depending on world location), Region 0 (Multi-Region/Worldwide).