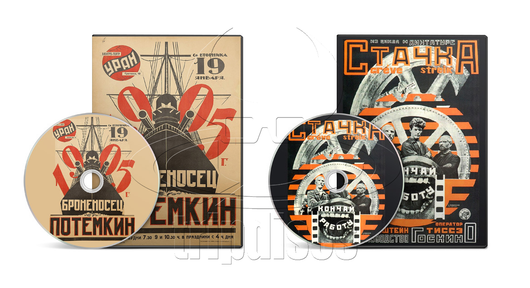 Battleship Potemkin (1925) Strike (1925) Russian, History, War, Drama, Silent (2 x DVD)
Regular price $19.00 Sale
Directed by: Sergei M. Eisenstein.
Starring: Aleksandr Antonov, Vladimir Barskiy, Grigoriy Ale, Grigoriy Aleksandrov, Maksim Shtraukh.
Battleship Potemkin (Bronenosets Potemkin) (1925)

When they are fed rancid meat, the sailors on the Potemkin revolt against their harsh conditions. Led by Vakulinchuk (Aleksandr Antonov), the sailors kill the officers of the ship to gain their freedom. Vakulinchuk is also killed, and the people of Odessa honor him as a symbol of revolution. Tsarist soldiers arrive and massacre the civilians to quell the uprising. A squadron of ships is sent to overthrow the Potemkin, but the ships side with the revolt and refuse to attack.

Strike (Stachka) (1925)

Russian auteur Sergei Eisenstein's first full-length feature, set just before the 1905 Bolshevik Revolution, depicts a workers' strike against their oppressive factory bosses. When a worker is accused of stealing a piece of machinery, he commits suicide, and his fellow employees revolt against the Czarist regime controlling the factory. As the strike drags on and government officials grow more desperate to end it, their methods of dealing with the rebellious workers become grislier.
Contained in: Standard DVD Cases.
Format: Either PAL or NTSC (depending on world location), Region 0 (Multi-Region/Worldwide).